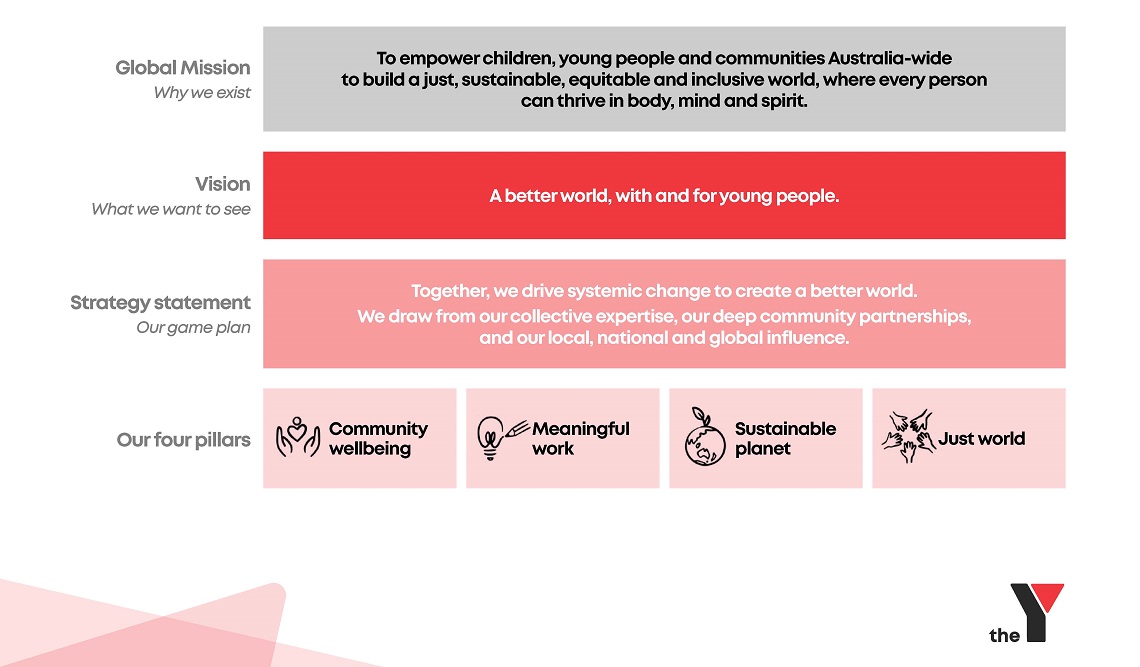 We have set ourselves a bold new vision: to create a better world, with and for young people. Our mission is to empower children, young people and communities Australia-wide to build a just, sustainable, equitable and inclusive world, where every person can thrive in body, mind and spirit. And we have committed to driving systemic change, across four areas of impact:
Community wellbeing
Meaningful work
Sustainable planet
Just world
See more about our four pillars here.
We recognise that driving systemic change – creating lasting change by challenging the very policies, practices, norms and mindsets which hold us back – is something that the Y is uniquely positioned to do. We work with 650 communities across Australia; 12,000 globally. We have an extensive service profile, and deep knowledge on how to support children and young people, from the earliest of ages throughout their life journey. This is the challenge we have boldly and intentionally set ourselves, through Strategy 2030.
Our Cycle of Impact and Inspiration
Believing in the power of inspired young people means we must embrace a cycle of impact and inspiration supporting children to grow into inspired young people and helping adults inspire and support them. Though our activities may be varied, we are united by our positive impact on young people.
Children – We enrich the lives of children and inspire them to reach their potential.
Young People – (12-22 years old) are our primary focus.
Adults – Through our work with adults, we aim to empower them to inspire young people and/or be inspired by them.
Our Strategy 2030 video